Neo-Gothic Temple
First Lookout Tower in Central Europe in the park of Krásný Dvůr.
Ninety-six feet tall, so-called Gothic tower, built in the style of pointed arches and with an artificially built stone spiral staircase providing surprisingly vast vistas. The interior of the tall hall is adorned with the statue of the field marshal Karl, Prince of Schwarzenberg.
Description from 1854
Neo-Gothic Temple
A unique structure, also called Rozhledna (Lookout Tower), is situated on the highest point of the park, 368 metres above sea level on the edge of Velká louka (Great Meadow). The building was initiated in 1793, and Jan Rudolf Czernin, the founder of the park and owner of Krásný Dvůr Mansion, is believed to have taken part in its design.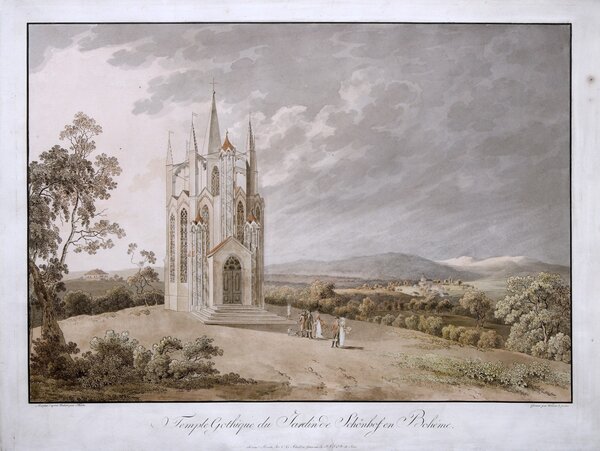 The temple is a central structure erected on an interesting floor plan with three outside staircases leading to the lookout tower. A roof lantern supported by buttresses is atop the bottom part. The pyramidal roof is topped with a sphere and Latin cross. The wooden ribs converge into a flower-shaped keystone which is suspended the same as the parts of the ribs below the central lantern.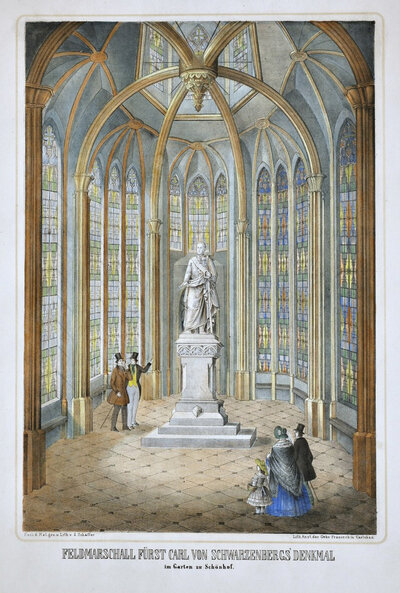 From the very beginning, the temple was used as a lookout tower and later also as a memorial to the successful general Karl of Schwarzenberg, a winner over Napoleon at Leipzig in 1813. His sandstone statue from 1847 is found in the temple interior.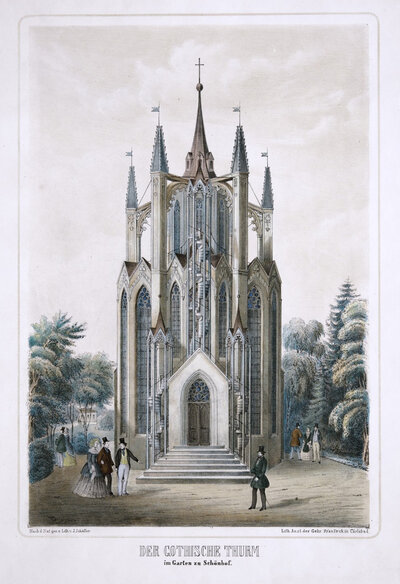 Educational programmes
Learning experience activities for organised groups of children and youth, from pre-schoolers to high school students.
The European Economic Area (EEA) grant supported the renovation of the Neo-Gothic temple in the Krásný Dvůr mansion park. The exhibition Krajinářské zahrady a parky (Landscape Gardens and Parks) was compiled in cooperation with Metodické centrum zahradní kultury (Methodical Centre of Garden Culture) in Kroměříž.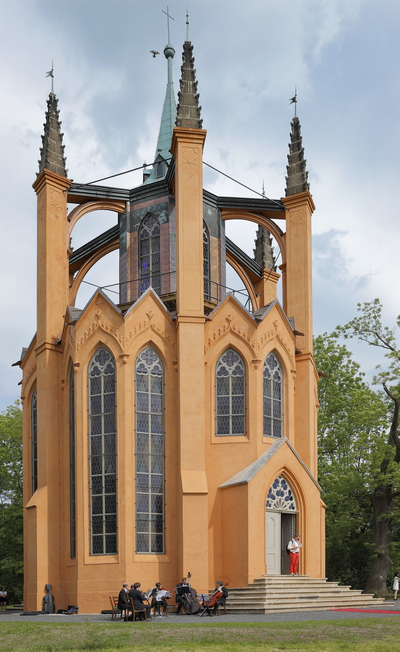 The lookout tower is closed under adverse weather conditions – strong wind, rain, fog, snow, and ice.